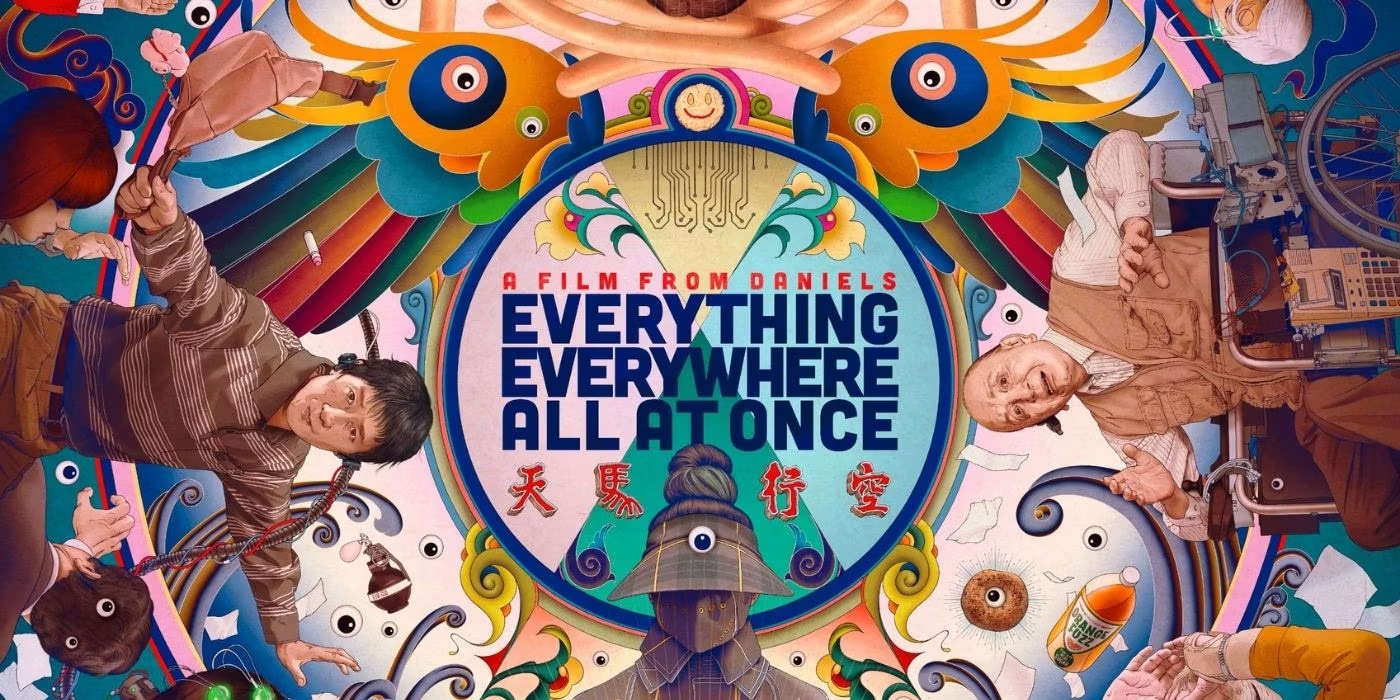 Hot dog fingers. Raccoon chefs. Sentient rocks.
These are just some of the countless oddities that populate "Everything Everywhere All at Once," the daringly original and wonderfully weird frontrunner at this year's Academy Awards.
A tender family drama disguised as a multiverse adventure, the Oscar-nominated film tells the story of Evelyn (Michelle Yeoh), an overwhelmed laundromat owner whose relationships with her husband and daughter have been strained, seemingly beyond repair.
To make matters worse, Evelyn's laundromat is being audited, leading to a contentious meeting with IRS inspector Deirdre Beaubeirdre (Jamie Lee Curtis). However, unbeknownst to Evelyn, everything (everywhere) is about to change.
Jolted out of her mundane reality, Evelyn learns of the multiverse, a vast network of alternate universes that exist alongside her own. With the help of an alternate version of her husband Waymond (Ke Huy Quan), Evelyn must learn how to channel her powers from these parallel universes in order to save the world.
Filmmaking duo Daniel Kwan and Daniel Scheinert, better known as the "Daniels," employ an endless array of cinematic techniques to bring Evelyn's universe-hopping odyssey to vivid, kaleidoscopic life. From intricately choreographed fight scenes to inventive practical effects, "Everything Everywhere All at Once" is a rip-roaring throwback to good old-fashioned in-camera filmmaking. 
But the movie is so much more than its (googly) eye-popping visuals. It's also a heartfelt exploration of mother/daughter relationships. Rooted in the lived experience of a Chinese-American household, "Everything Everywhere All at Once" achieves the rare combination of being both culturally specific and emotionally universal. 
Part of that emotional power stems from Daniels' original screenplay, which finds a perfect balance between absurdist comedy and pathos. The other part? That would be the sensational ensemble cast, which features no fewer than four (!) Oscar-nominated performances.
Leading the pack is Michelle Yeoh, a veteran actress long overlooked by the industry. Yeoh's portrayal of Evelyn is a career showcase of sorts, referencing her status as a martial arts film icon while also highlighting her razor-sharp comic timing and deep emotional range.
Ke Huy Quan, perhaps best known to film fans for his childhood roles in '80s blockbusters like "Indiana Jones and the Temple of Doom," mounts an acting comeback for the ages. His multifaceted performance covers a wide range of emotional registers, from meek and unassuming to frenzied and self-assured.
The film's other two Oscar-nominated performances come from Jamie Lee Curtis and Stephanie Hsu. Curtis, a Hollywood legend best known for her roles in horror classics like "Halloween," turns in a slyly hilarious performance as the frumpy and unfashionable Dierdre Beaubierdre. 
Hsu, on the other hand, gives an emotionally raw performance as Evelyn's daughter Joy, conveying resentment and vulnerability in equal measure. Together with Yeoh, Hsu's pain-filled performance serves as the emotional anchor of the film.
With a leading 11 Oscar nominations, including one for Best Picture, "Everything Everywhere All at Once" is poised to make history at this year's Academy Awards. Don't miss your chance to see it back on the big screen beginning Friday, Feb. 3, at the Varsity Cinema.
— Clinton Olsasky